Description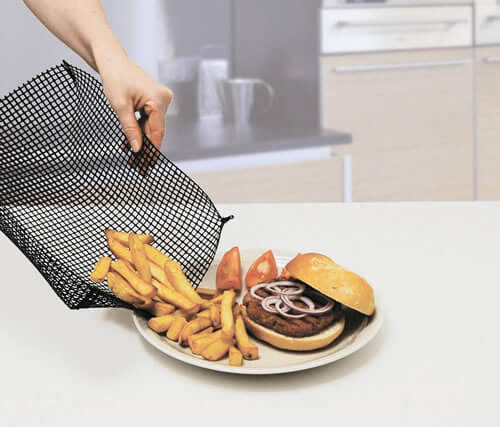 The Oven Basket is ideal for crispy cooking every time. Non-stick basket allows steam to escape, avoiding soggy food and prevents sticking.  The revolutionary Oven Basket is an indispensable tool for every oven. It allows perfect heat circulation around the food, preventing soggy, uneven cooking – ensuring CRISP food every time!
Fantastic results are achieved using the Oven Basket: Get Crisp pizza crust, nuggets, chicken wings, and as for oven fries – discover just how delicious they can be!
Works great with pastries as well – leaves pastries deliciously light and crispy – food slides out without sticking.
The Oven Basket is non-stick so there is no need to add oil or butter! Ideal for fat-free cooking! Reusable and heat resistant up to 500 degrees F.
To clean, simply wipe clean in warm soapy water or wash in dishwasher. Size: 11″ x 11″ x 1″.
Comments
comments