Product Description
Please click Here to order at our special low pricing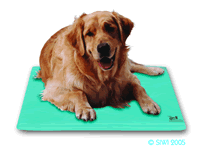 Canine Cooler® Brand Thermoregulating Pet Bed, your dog can have ultimate comfort in the form of the coolest and the softest spot in the house!! Dogs love its soft, cool, and dry sensation!
This is a most comfortable, most innovative, and most
extraordinary dog product. SoothSoft™ Comfort Technology creates a dry, room temperature cooling effect, together with an unparalleled supportive element due to the nature of its fluid-based design. Yet it's more than simply a dog bed-it's a canine comfort device. The Canine Cooler® pad is ongoing healthy therapy for the animal. It is superb at comforting dogs with bad joints, bad hips, skin disorders, or other health conditions in which a soft, cooling effect would be desirable. The bed is maintenance- free and easily wiped clean. Fleas cannot burrow or lay eggs in this bed.
| | |
| --- | --- |
| | See this 5,000 lb truck run over inflated Canine Cooler Bed! It was completely undamaged. |
The bed has a one year manufacturer warranty, which is not offered with any other foam/fabric type bed. The warranty covers seam failures but not punctures caused by dog nesting, scratching or chewing of the bed. Proudly made in America at an ISO 9001 facility. All Canine Coolers ship directly from the manufacturer!


SoothSoft® Comfort Technology uses a combination  of
specialized foam, fluid, and a shapeable outer membrane to
create a unique and superior molding effect that conforms to pressure
points. It's a comfort dynamic like never seen before in the pet bed market.
Comments
comments