Product Description
Pan American Silver is a world leader in the production of new silver. Northwest Territorial Mint is the exclusive mint for the striking of Pan American Silver bullion that has been refined to .999+ purity. This silver bullion is struck in one ounce bars.
Silver Bars Specification
1 Troy Ounce Bars are minted in .999 silver. The dimensions are: 50 mm length, 29 mm width, 2.10 mm thickness.
Front                      Reverse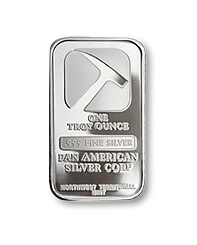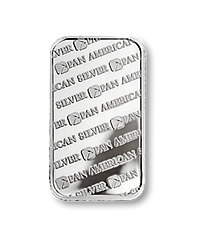 Please note that the photos shown here are n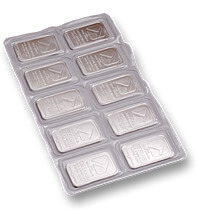 ot to scale. All bars share the same design. The obverse features the Pan American silver logo, while the reverse contains the same small logo with "Pan American Silver" repeated across the back.
Minimum Silver Bar Purchase
There is no minimum purchase… you may buy as little as one bar.
Silver Bar Packaging
The bars are sealed in plastic sleeves that hold multiple bars and protect your investment. Few dealers provide this protection for silver bars.
Please Note:
No coupons/ discounts are allowed for silver purchases.
Please Also Note:
If paying by Paypal, and shipping to an unconfirmed address or unverified Paypal account, there will be an additional fee of $2 for signature confirmation.
Comments
comments