Product Description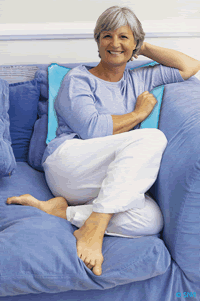 As mentioned in USA Weekend and Chicago Sun-Times
The Chillow® is a thin, very soft, medical-grade, non-electric thermoregulating device
Its main application for which it was designed is to keep your pillow cool. If you ever "flip" your pillow looking for the "cool spot", you're been searching for the Chillow® device all your life! It is a steady, lasting, and super comforting sensation which doesn't blow air, make noise, or cost money to run.
There is no product in the world like it. To activate it, just add 8 cups of water! Its very soothing and relaxing effect will give you super sleep night after night- you're never too hot, you're never too cold….you're always perfectly comfortable!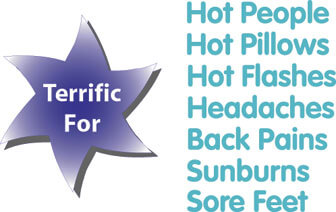 There are also many other uses for the Chillow® It has a tremendously comforting, relaxing, and soothing sensation, enjoyable in so many situations- from headaches to hot flashes to hot tired feet, to injury treatments and sunburns, the Chillow® feels great for them all.
Chillow® Dimensions:
20 1/2″ long X 13 1/2″ wide X 1/4″ thick
The Chillow® is recommended to be used with a regular sized pillow if it will be used while sleeping. When completely filled, the Chillow® weighs only 5.5 pounds.
How does the Chillow® work?
The device uses SoothSoft® Comfort Technology to provide cooling without using electricity or refrigeration. This product works as a heat sink and a radiator. At room temperature it's nearly always cool enough for your enjoyment. The Chillow® is specifically designed to be cool at night and gently warm in the early morning hours. It's cool when you need it, but won't overcool you like fans and air conditioners do.
What does the Chillow® feel like?
It was designed with comfort in mind, so the Chillow® feels to the touch, like cool, soft, supple glove leather. The sensation of the Chillow® has been described like the "cool kiss of a Caribbean breeze right on your cheek!" It is a very soothing, relaxing, and comforting effect.
Can I use it directly on my skin?
Absolutely. The Chillow® is made of super soft medical-grade materials that are hypoallergenic and nontoxic.
Is it supposed to be cool all the time?
Not necessarily. The Chillow® was designed to match your body's cooling needs. At night after an active day, when your metabolism is high and you're hot, the Chillow® is cool and refreshing. But in the early morning hours, when your metabolism is low due to inactivity, and air temperature is at it's coolest, the Chillow® is lightly cool to lightly tepid, which is exactly the temperature you will enjoy. After you get out of bed, the Chillow® loses any accumulated heat and recharges so it's ready to go again at naptime, or at bedtime. There is no maintenance required, save sweeping the air out once per month, which takes approx. 20 seconds
How do I make it the coolest it can be?
One of the main points is to get airflow over it. Using it along with a fan or air conditioner provides this airflow. If you want it even cooler for any reason, you may place it in the refrigerator for 15-30 minutes. This makes Chillow® a super duty cooler. Please do not ever put it in the freezer! Remember, following the activation instructions carefully and resealing the air out every 30 days will ensure you get the maximum performance out of this great product. It takes only a few minutes to activate properly and will provide years of enjoyment.
Can I use the Chillow® outside?
Yes and no. The product is not meant to be used in direct sunlight…sun won't hurt it, but it will heat it. (Note: sunlight may discolor it.) If used outside, on a lawn chair for example, cover it with your t-shirt or a thin cloth to protect it from the sun, but to let the cooling come through. It'll be lasting for a good hour or so, then let it recharge in the house at room temperature or put it in the refrigerator for a quicker recharge.
Can I use the Chillow® for my pet?
Our company does not recommend using the Chillow® for pets. For pet use, a specially designed Chillow® called the Canine Cooler® has been made. Click here for more information on the Canine Cooler®.
Comments
comments