Product Description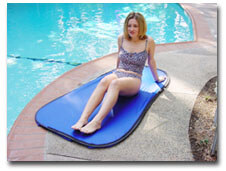 Convenient privacy in seconds – A portable dressing room
Pop Up Room Features:
3 weight bags
Ready to use in seconds
Folds Flat for convenient travel and storage
Comes in its own carrying bag
Includes 4 tie down ropes and stakes
(Keeps the Pop Up Room stable in case it gets windy)
The Pop Up Room can also be used as a mat for the beach, poolside or the park.
Frequently asked questions:
How long does it take to set up?
Only a few seconds. Just unzip the tote bag, remove, and out it pops. Then all you do is pull apart 2 corners. The free standing room is ready to use.
How much does it weigh?
Approximately 3 lbs
Are there any other uses for the "Pop Up Room in a Bag"
It makes a great beach mat
Can the "Pop Up Room in a Bag" be used as a "potty room"?
Yes. It's a perfect "potty room" – great for camping
What holds up the Pop Up Room in a Bag?
It is supported by spring steel bands that are sewn into the fabric. When the "room" is taken out of the carry bag, it springs open.
What happens if it gets windy?
That's no problem. There are 3 weight bags sewn into the bottom edges. You can put a brick, or other weight inside (or on top) of the bags. If it gets very windy, there are tie-down loops at each corner and tie-down cords that attach – with stakes.
What are the dimensions of the Pop-Up Room?
The Pop-Up Room is large enough for anyone to change in. The height is 63 inches and the base is 39 inches. And since the top is open people of any height can change in complete privacy.When folded, it collapses into a circular storage bag that is 22 inches in diameter, and 2 inches in width.
Is the Pop-Up Room fire retardant?
The Pop-Up Room is made of metal wire frame, the fabric is polyester and it is NOT fire retardant.
Delivery outside of the USA?
We apologize, but we currently only ship within the US at this time.
Please note: The fastest method of shipment we offer takes 4 business days to receive, if there are no problems
Comments
comments